The 510k submission must be made:
A new FDA 510k submission is required for changes or modifications to an existing device. The amendments could significantly affect the safety or effectiveness of the device, or the device is to be marketed for a new or different indication for use.
Anyone who wants to sell a device in the United States of America is required to make a 510k submission at least 90 days before offering the device for sale, even though it may have been under development or clinical investigation before that date.
Change in the intended use for a device that you already have in commercial distribution. (Already cleared 510k submission process)
If there is a change or modification of a legally marketed device, that change could significantly affect its safety or effectiveness.
FDA 510k Number
US FDA 510k number is a premarket notification number provided by the FDA after a manufacturer or specification developer has demonstrated that the medical device is substantially equivalent in performance and safety to other devices already existing on the market. A 510k is not a premarket approval, neither establishment registration nor device listing.  In three situations, an FDA 510k is usually needed.
The first is if it's the first time bringing a new device to the market.
The second is to change the indications for the use of a previously approved product,
The third is to make significant changes to a previously approved device.
In these circumstances, we would require a 510k, and you would need 510k approval before you could register, list, or begin marketing.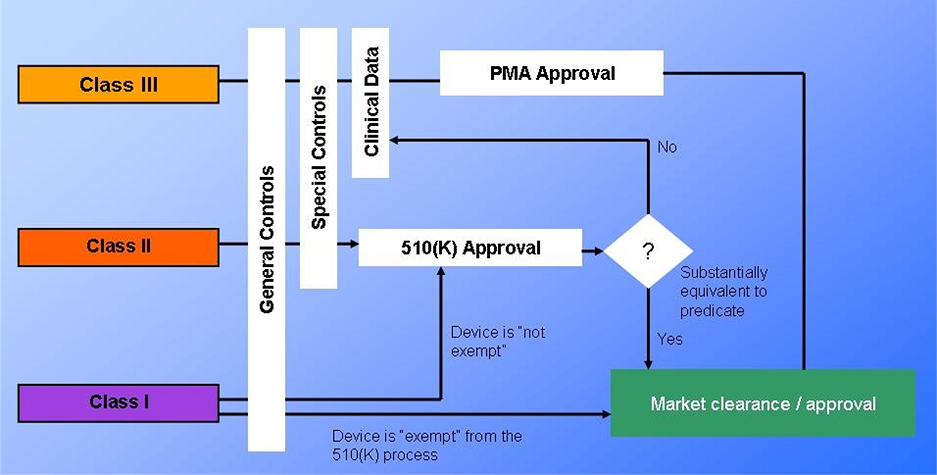 FDA 510k Submission Process
Once determined, the appropriate device classification then needs to find the substantial equivalent device. Substantial Equivalence essentially proves that the current device, compared to a reference device, has the same intended use and technical characteristics or has the same planned application. The technical variations do not pose any new concerns regarding safety and effectiveness.
An FDA 510k submission must for
Domestic manufacturers are introducing a device to the U.S. market.
Re-packer or Re-labeler who makes labeling changes or whose operations significantly affect the device.
Foreign manufacturers/exporters or U.S. representatives of foreign manufacturers /exporters are introducing a medical device to the U.S. market.
When bringing a medical device to market in the United States, based on the risk class and intended use of the device to determine whether to (a) submit a premarket notification, also known as 510k, or (b) petition for premarket approval (PMA) exempted device. While these three terms may sound similar, the amount of time, money, and documentation involved with each are entirely different.
All these complexities necessities the importance of appointing an 510k consultant or agent for various types of FDA 510k submissions.
Medical Device Classification
According to US FDA, the definition of Medical Device various slightly from MDD. The classification method and criteria also differ. The US FDA has established classifications for approximately 1,700 different generic types of devices and is categorized into 16 medical specialties. Each of these generic types of devices is assigned to one of three regulatory classes based on the level of control necessary to assure the safety and effectiveness of the device. The three classes and the requirements which apply to them are:
Class I General Controls
With Exemptions
Without Exemptions
Class II General Controls and Special Controls
With Exemptions
Without Exemptions
Class III General Controls and Premarket Approval
Class 1 or 11 devices If not exempt, you need to select the 510k route for marketing. All devices classified as exempt are subject to the limitations on exemptions. Limitations of device exemptions are covered under 21 CFR 862-892. A premarket approval application (PMA) will be required for Class III devices unless your device is a pre-amendments device or substantially equivalent to such a device, and PMA's have not been called for. In that case, an FDA 510k will be the route to market.
The classification of a device is determined by its intended usage as well as its indications for use. Furthermore, classification is risk-based, which means that the risk posed by the system to the patient and/or the user is a significant factor in the class to which it is classified. Class I devices have the lowest risk, while Class III devices have the highest risk. All classes of devices are subject to General Controls, as mentioned above. The Food, Drug, and Cosmetic Act (FD&C Act) establish the minimum standards for all medical devices, including Class I, II, and III.
Find  Device Class
Class of device can be identified from the database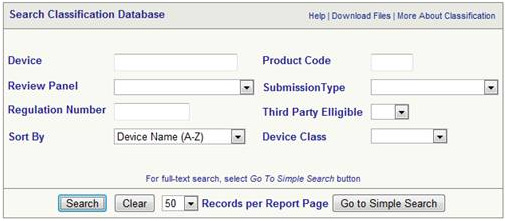 The same can be used to find the following
To find the class of your device
To find any exemptions may exist 510k
To find the Regulation Number
To find out GMP is applicable or not
To find out device description
To find out 21 CFR Part Number
If you can identify the right product code before approaching us, we will speed up our advice with more accurate information.
FDA 510k Submission Consultants
To ensure timely submission and clearances, an FDA 510k Consultant is highly recommended. We, as consultants typically assist with 510k preparation, review, US Agent, and answering FDA review comments. We have good QA and RA consultants with technical and scientific knowledge above 6 years. The process of FDA 510k submission is detailed below.
Initial GAP assessment of the medical device in the scope of 510k
Product analysis
Predicate finding
Product classification
Identify FDA guidance for the specific product
The requirement of performance data study
Prepare a technical comparison of your medical device to the predicate device(s).
Product description writing
Label review and modification
FDA 510k document preparation (we develop, edit, review 510k compiled the file. We will not allow the client to work on documentation)
Prepare all 21 sections of the FDA 510k application.
Coordinate for making payment of FDA 510k submission fees.
Submit the hard copy and eCopy to the CDRH division within the FDA
510k follow-up with FDA officials and will be correspondent for further communications with the FDA.
Responses to requests for additional information in the shortest time frame.
For foreign exporters, we act as US Agents for your firm.
US Agent/Consultants Immediately communicate with you regarding all information received from the FDA following the FDA submission and assist in addressing requests for additional information, if applicable.
FDA will not perform any ONSITE inspection as part of FDA 510k clearance. The manufacturer should implement FDA Quality System (GMP) as per 21 CFR 820 and be ready to face inspection by FDA auditors at any time after marketing the devices in the USA.
Role of FDA 510k Submission Consultants
The following are the significant steps involved in the preparation and submission of FDA 510(k)
| | |
| --- | --- |
| Step 1: | Identify the device regulation number and device code. |
| Step 2: | Discuss and debate with the client to identify the predicate /equivalent 510k cleared device. |
| Step 3: | Identify 510k type a. Traditional 510(k) b. Abbreviated FDA 510(k) c. Special FDA 510(k). |
| Step 4: | FDA 510k Preparation, along with preclinical studies and External testing. |
| Step 5: | 510(k) Pre-submission to FDA. |
| Step 6: | 510(k) updation as per FDA review comments. |
| Step 7: | US Agent appointment and FDA review Fee payment. |
| Step 8: | US FDA 510(k) submission ( Hard copy & E copy). |
| Step 9: | Communicate and follow up with the FDA (on behalf of the client). |
| Step 10: | FDA 510k modification and resubmission as per FDA review comment. |
| Step 11: | Wait for additional review comments, if any, till receipt of the 510(k) number. |
| Step 12: | Establishment Registration with 510(k) number and list the 510(k) cleared device. |
| Step 13: | Initiate sales and marketing of the device in the USA. |
.
Consultants for 510k Submission & Approval
PHASE I

Stages

Activity

Responsibility

Timeline

1

Select the Medical Device and models
for USFDA Approval

CLIENT

20 Days

2

Identify Predicate Device with same
indication and technology

CLIENT + MDC

3

If NOT substantially equivalent, follow PMA route or  substantially equivalent follow 510k route

CLIENT + MDC

4

Appoint MedDeviceCorp as Technical Consultants
and US Agent for clearance

CLIENT

PHASE II

5

Identify device Code and Regulation Number along with verification of  Predicate Device, indication & technology.

MDC

90 Days

6

Identify the device Class and guidance document

MDC

7

Biological evaluation and test requirement Identification in line with the predicate device

MDC

8

Samples send to Laboratory

CLIENT

9

Evaluation of equivalent device compilation

MDC

10

Drafting of 510k file in line with available FDA guidance document.

MDC

11

Review of Risk analysis, Equivalent device data, Biocompatibility Test / Safety test protocols

CLIENT + MDC

12

Review of Labels, User Manual / IFU, Shelf-life records/lifetime calculation, and preclinical study evidence

CLIENT +MDC

13

Pre-submission

CLIENT + MDC

PHASE III

14

Compilation by incorporating the pre-submission comments

MDC

90 Days

15

Compilation of Preclinical and Biocompatibility / Safety testing

MDC

16

Compilation and release of the Final Draft

MDC

17

Review

MDC

PHASE  IV

18

US Agent Appointment

CLIENT

20 Days

19

Review payment

CLIENT

20

Submission in Hard copy and E Copy

MDC

21

Receipt of acknowledgement

CLIENT

22

Wait for the review comments

CLIENT

90 Days

PHASE V

23

Modify the 510(k) and provide additional supporting documentary evidence as per FDA review comments

CLIENT + MDC

60 Days

24

Resubmission

MDC

10 Days

25

Wait for the review comments or 510(k)clearance letter

CLIENT

90 Days
FDA 510k Submission & Documentation Fees
(Consulting, 510k Preparation, Pre-submission, Final Submission & US Agent)
US FDA Medical Device Establishment Registration FY 2023 Fees

: $6493 

FDA 510k Review Fee FY-2023 (Standard):

 $19870

FDA 510k Review Fee FY-2023 (Small Business)

: $4967
Clients may make the above payments directly to US FDA
OPTION 1: FDA 510k Complete Package Fees
Payable to MedDeviceCorp [Oct 2022 – Sep 2023]
| | | | |
| --- | --- | --- | --- |
| Type of Device | Guidance Fee | 510(k) (File) preparation | Submission Fee |
| Non-invasive | 8000 – 9000 USD | 6000 – 7000 USD | 500 USD |
| Invasive | 10000 – 11000 USD | 8000 – 9000 USD | 500 USD |
| Implant | 12000 – 13000 USD | 10000 – 11000 USD | 500 USD |
OPTION 2: FDA 510k Partial Service Fees
Payable to MedDeviceCorp [Oct 2022 – Sep 2023]
Activity

Cost

Remarks

USFDA 510(k) detailed Review

6500 – 8500 USD /510(k)

Device Code, Regulation Number & Predicate device accurate information must be provided by the client.

Timeline 30 working days

USFDA 510(k) Quick Review +

FDA Pre-Submission *

6000-7500 USD/510(k)

Expected timeline 90 to 120 days.

US Agent Fees, File Conversion & Stationery / Courier charges included

( No payment needed for FDA)

* 510(k) submission can be added to the above service with additional fees of 1500 USD

USFDA 510(k) Pre-Submission

3500 USD /510(k)

US Agent Fees, File Conversion & Stationery / Courier charges included

Expected timeline 90 days.

( No payment needed for FDA)

USFDA 510(k) Pre-Submission + FDA 510k Submission

6500 USD / 510(k)

Expected Pre-Submission timeline 90 days

Expected 510(k) Review timeline 120 days

FDA Pre-Submission is free and 510(k) Submission FY review charges applicable

US Agent Fees, File Conversion & Stationery / Courier charges included
Important
Country specific Government taxes additional.
Consultant onsite visit based on customer request. Travelling and Boarding extra invoiced on actual.
Project cost is divided into 4 instalments based on the progress of the project.
Method of communication – Email / Telephone / Skype / WhatsApp.
Language for communication – English.
Complete documentation by Cloud server.
510k preparation timeline 60 to 90 days and Pre-submission approx. 90 days.
Expected timeline for completing FDA multiple reviews and Clearance 140 – 180 working days.
Looking for a detailed estimate? Please fill up the Request for Quote and submit it online. Our Experts will study the information submitted and will revert back to you soon.
[wp-faq-schema accordion=1]