Inspired By Excellence & Innovation
As a regulatory affairs consulting firm, we offer quality technical and regulatory advice and support services to manufacturers of healthcare products.
WHY CHOOSE MEDDEVICECORP?
We are regulatory affairs consulting firm and committed to exceeding client expectations via excellence in auditing, implementation guidance, documentation, regulatory solutions, and secure document control, making us a global leader.
Global office locations and associates offices

Highly Qualified and Experienced Consultants

Service Quality is our Motto
If you prefer to appoint a consultant check our pricing right now and contact us today.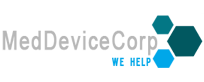 Professional Regulatory Affairs Consulting Firm Offerings!
Covering Drugs, Medical Device, Food, Nutraceuticals & Cosmetics.
Be our Customer like
2300+ others
already benefited from Timely Delivery.
Just be with us!! Be with the most Responsible service provider.